Principals
Mohammad Baki, Partner and President
Mohammad has nearly 20 years of experience in managing financial services organizations and advising clients on financial and investment strategies. Prior to joining Overture Financial in 2004, Mohammad worked in the Merrill Lynch Global Private Client Group where he headed the Offshore Managed Assets Group, a division with US $40 billion in assets under management and comprised of offshore mutual funds, alternative investments, fee-based products and services, structured products, and separate account management services. In that capacity, he oversaw the design, build-out and successful launch of some of the industry's most innovative investment management platforms, fee-based offerings, and investment wrappers.
Prior to that, Mohammad served as head of marketing strategy and product development for the International Private Banking Group of Merrill Lynch. In that capacity, he oversaw the development of an industry-leading, integrated end-to-end wealth and risk management platform for private and institutional investors; he also participated in the development of the Merrill Lynch offshore direct equity trading business. He joined Merrill Lynch in 1994 as a Financial Advisor servicing financial institutions and high net worth individuals throughout Central and South America after having established a successful investment and business consultancy practice in Latin America and the Caribbean.
Mohammad holds an A.B. degree from the Woodrow Wilson School of Public and International Affairs at Princeton University and a Masters degree in Economics and Finance from Yale University. He specializes in mathematical and financial economics. He is fluent in English, Spanish, French, and Arabic.
Samir Kabbaj, Partner and Chief Operating Officer
Samir has nearly 15 years of experience in wealth management, financial services technologies, and software development. His areas of expertise are large-scale project management, systems implementation and integration, risk management, and performance assessment. As Chief Operating Officer of Overture Financial he has led Overture's institutional consulting business that focuses on sovereign wealth funds and central banks.
Prior to joining Overture Financial, Samir was with Merrill Lynch Global Private Client where he led the area responsible for the creation and implementation of Merrill Lynch's wealth management process and analytics throughout Asia, Europe, Latin America, and the Middle East. He was also responsible for all client analytical reporting in the US. While at Merrill Lynch, Samir led the first account aggregation initiative by coordinating teams in London, Geneva, and New York and was the architect of the first in-house multi-currency investment performance engine. Merrill Lynch awarded him the "ML Special Achievement Award" in 2002 and 2003. Samir also has extensive experience working with and integrating into global custodians, investment aggregation solutions, portfolio management systems, and risk management solutions.
Samir holds a B.S. degree in Engineering, an MBA in International Business, and an MA in Political Science from Fairleigh Dickinson University. While at Merrill Lynch, he was an adjunct professor of mathematics between 1997 and 2005. He is fluent in English, French, and Arabic.
Andrew T. Schmuhl, Partner and General Counsel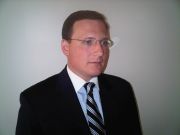 Andrew has more than 10 years of global legal, compliance and consulting experience working in the investment management and institutional consulting industries, with an emphasis on investment advisory matters and products.
As General Counsel Andrew coordinates and handles all legal matters, including issues relating to the following areas: investment management, Investment Advisers Act of 1940, corporate, general contractual, international, intellectual property, employment and litigation management. He has personally negotiated and handled client and prospective client relationships in the EU region, Latin America, Asia, Eurasia, the British Virgin Islands and the Cayman Islands.
Andrew also specializes in consulting to Sovereign Wealth Funds, Central Banks, State Social Protection Systems and financial institutions on a variety of confidential business, legal, compliance, operational and financial matters.
Andrew started his career at Lockwood Financial Group where he served as the Associate General Counsel for Lockwood's three SEC registered investment advisors and two NASD registered broker-dealers. He was extensively involved with various aspects of transition planning and implementation following the acquisition of Lockwood by The Bank of New York in the fall of 2002, including primary responsibility for legal and regulatory aspects of the conversion to a new clearing broker-dealer and custodian for clients' securities accounts.
Andrew holds a B.A. in history from the University of Pennsylvania and a J.D. from the Villanova University School of Law. He is also a published author on electronic signature and authentication as they relate to ecommerce.